Center Court: Get Game Day Ready!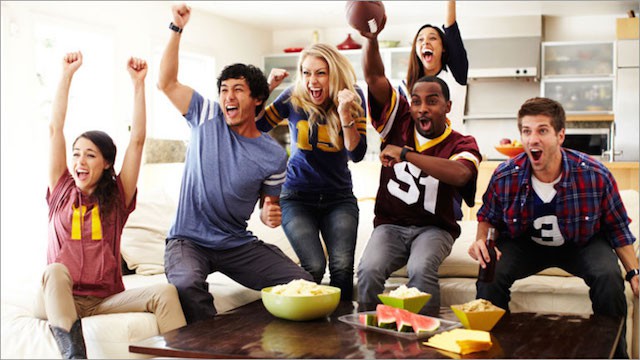 Football season is almost over, and you know what that means…The big game is days away! As you gear up for the big game, PREIT malls have everything you need to prepare and celebrate.
Gear Up with the Best Apparel
You can't show up to a Super Bowl party without rocking your favorite team's apparel! From jerseys to hats, t-shirts and even socks – we have you covered! Check out Bleacher Bums at Capital City Mall or Dick's Sporting Goods at Plymouth Meeting Mall. After you deck out your family and friends – be sure to grab goodies for your guests, or a hostess gift if you're attending a great party! Head to our Pro Image Sports store at Cherry Hill Mall for a selection of coolers, knickknacks and accessories including necklaces, stickers, and more.
Be the Hosting MVP
Spend less time in the kitchen and more time with friends this Sunday! After you're done shopping for apparel and accessories, you can stop by Whole Foods at Exton Square Mall on your way out! What's a party without a charcuterie board? Whole Foods fuels all of your cheese needs and has healthy party trays to grab-and-go for minimal preparation. For even more cheese, save yourself the hassle, and pick up a classic pretzel and cheese dip tray from the Philly Pretzel Factory at Fashion District Philadelphia.
Hosting a ton of people, but don't have enough seating? Woodland Mall's Pottery Barn is your go-to for furniture and décor! Whether you're in search of a new couch, throw blanket, or party platter, Pottery Barn has what you need. The big game is a great excuse to revamp your kitchen and living room with some new staple pieces from Pottery Barn!
Catch the Game on Your Local Big Screen
The Willow Grove Park Mall's latest restaurant, Yard House, is a great place to be on game day. With 110 taps, Yard House is the home of the world's largest selection of draft beer, with a menu of over a hundred different dishes – they truly have something special to please everyone.
In search of a classic American restaurant to celebrate the great sport of American football? Spend your game day at the Cumberland Mall Applebee's where casual dining makes you feel at home. Applebee's has yummy appetizers, cocktails, and healthy options to keep your New Year's resolutions in check!
Whether you plan on celebrating at home with friends, or want to enjoy while out and about, PREIT has you covered for this year's big event. For more details on stores and restaurants, please visit your local mall's website. A full list of our properties can be found here: https://www.preit.com/properties/mall-portfolio/.