Six Reasons Why Malls are a Great Place to Get Your Brand in Front of Holiday Shoppers
We so often think about how consumer habits are changing, but one thing stays the same; people turn to malls for a tried and true holiday experience. This holiday, in the Philadelphia and South Jersey markets, tens of millions of shoppers will visit malls looking to discover new products and services. Here are six reasons why malls need to be a part of your media mix this holiday season.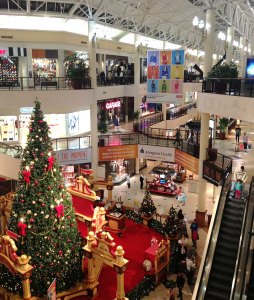 REACH – An estimated 89% of the U.S. population will visit a mall during the holiday season.
FREQUENCY – The highest-spending mall shoppers will make three visits a month spending nearly an hour and a half per visit. Additionally, multiple ad locations in a single mall property provide multiple exposures.
QUALITY OF CUSTOMER – Women, estimated to make 80% of household purchasing decisions in the U.S., represent nearly 75% of all mall shoppers.
RECENCY – Simply put, it's the last ad that sells. 50% of purchasing decisions are made near the point of sale.
RECEPTIVITY – Mall shoppers are more open to discovering new brands, products, and services than the general public.
RICHNESS – Malls are the perfect venue for signage and experiential marketing, as they engage all five senses and provide a tangible expression of your brand/business.
Interested in amplifying your holiday media spend? PREIT owns nearly half of the mall space in the Philadelphia and South Jersey markets, covering all of the counties in Philadelphia.
Connect with our Partnership Marketing team to discuss proven strategies to help bring your message to the motivated holiday shopper.