PREIT Shares Update on MPG Refresh and Remerchandising
Value-enhancing updates to key DC Metro asset coming on-line
Over 80%of the multi-year remerchandising effort finalized
PREIT (NYSE: PEI) today shared exciting updates on the ongoing remerchandising and physical plant transformation at its Mall at Prince Georges ("MPG").  Over 80% of the tenant space slated for remerchandising has been finalized.  Located just outside of Washington DC in densely populated Hyattsville, MD with immediate access to a metro stop, MPG is surrounded by a growing community where nearly $1 billion has been invested over the past several years on high quality housing and office development and where trade area household incomes exceed the US average by over 15%.
In an effort to capitalize on the opportunities to enhance the asset, PREIT focused on attracting sought after retail and dining venues and improving the aesthetics and curb appeal of the high-trafficked destination.
New Retailers
Bringing in-demand and diverse retail offerings is a key component of the remerchandising program.  In addition to the new H&M that opened in 2016, Flight 23 by Footaction recently opened a new store.  As new establishments open in 2018, the refined tenant mix will include an expansion of MPG's off-price offerings including DSW in 16,000 square feet and Five Below in 8,500 square feet.  It will also incorporate the high-performing cosmetics industry with retailer ULTA Beauty which will open an 11,000 square foot store.  The property will also house popular jewelry and accessories by Grand Jewels which will offer 3 popular brands out of individual storefronts – Alex and Ani, Pandora and Kendra Scott.
Quick Service Restaurant Additions
Enhancing the food offerings at the property, MPG will unveil a series of high quality, quick service dining establishments later in 2017 and early 2018.  The new venues will include: Chipotle Mexican Grill, Five Guys Burgers & Fries and Mezeh Grill, which offers fresh Mediterranean food made from scratch.  These dining establishments will have exterior entrances fronting the heavily trafficked East-West Highway complementing the offerings in the highly-productive interior food court.
 Retailer Refreshes
In addition to bringing new offerings to the community, PREIT is focused on delivering the latest and greatest store experiences for its customers.  As such, Bath & Body Works expanded to include the White Barn Candle concept and Victoria's Secret upgraded its store and brought in its sister concept, PINK.  Old Navy also relocated and opened in an updated new store prototype.  DTLR is finalizing its remodel and will be open before the holiday season.
Improved Shopping Environment
In addition to bringing in new tenants, PREIT is investing in the shopping experience by upgrading common area elements, which are nearly complete in anticipation of the 2017 holiday season getting underway.  New exterior entrances will enhance curb appeal, while interior upgrades include new ceilings, lighting, soft seating and food court upgrades.  New carts, enhancing visibility for the consumer, have been installed in the common area.
MPG represents one of the best opportunities in our portfolio, located just outside of Washington DC in a densely populated market that continues to improve. With sales up 9% year over year and imminently approaching $500 per square foot as we introduce exciting new brands, we will continue to capitalize on value-enhancing opportunities as NOI, traffic and sales continue to improve.
.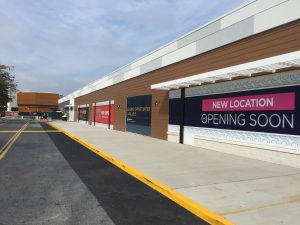 About PREIT
PREIT (NYSE:PEI) is a publicly traded real estate investment trust that owns and manages quality properties in compelling markets. PREIT's robust portfolio of carefully curated retail and lifestyle offerings mixed with destination dining and entertainment experiences are located primarily in the densely populated eastern U.S. with concentrations in the mid-Atlantic's top MSAs. Since 2012, the company has driven a transformation guided by an emphasis on portfolio quality and balance sheet strength driven by disciplined capital expenditures. Additional information is available at www.preit.com or on Twitter or LinkedIn.