PREIT Furthers Anchor Repositioning Efforts with Opening of DICK's Sporting Goods at Capital City Mall
Marks 5th of 6 new stores opening in former department store spaces in 2017
Philadelphia, PA, September 28, 2017 – PREIT (NYSE: PEI) today announced the opening of DICK'S Sporting Goods as the replacement for Sears at Capital City Mall in Harrisburg, Pennsylvania, just six months after the department store closed. PREIT proactively recaptured the department store and attracted the high performing replacement to further strengthen its portfolio and enhance shopper experience, as part of its multi-property anchor repositioning effort.  Fine Wine and Good Spirits will follow with a planned November opening.
DICK'S Sporting Goods occupies 61,000 square feet of the recaptured space, with Fine Wine & Good Spirits filling an additional 11,500 square feet. The tenants join the only DSW, Forever 21 and Field & Stream stores in the region, reinforcing Capital City Mall's lead positioning in the market.  Recent additions to the property include top-tier retailers: H&M, Pandora and a new prototype Victoria's Secret store.  As part of PREIT's commitment to curating a diverse mix of concepts, including experiential tenants, to adjust to a shifting retail landscape, Dave & Buster's will also open at the property in 2018.
We continue to position Capital City Mall as the dominant retail center in the Harrisburg trade area through our overall remerchandising efforts. The additions of DICK's Sporting Goods and Fine Wine & Good Spirits complement our proactive anchor recapture strategy to introduce dynamic retailers and deliver strong returns to our shareholders.
PREIT recently announced the opening of several diverse retailers replacing former Sears stores the Company proactively recaptured – at Viewmont Mall in Scranton, PA and Magnolia Mall in Florence, SC, further highlighting the success of its anchor redevelopment program across its portfolio. At Viewmont Mall, HomeGoods alongside DICK's Sporting Goods and Field & Stream replaced Sears within the past month. At Magnolia Mall, Burlington opened last week in part of the former Sears space, with Five Below and HomeGoods expected to open in Spring 2018.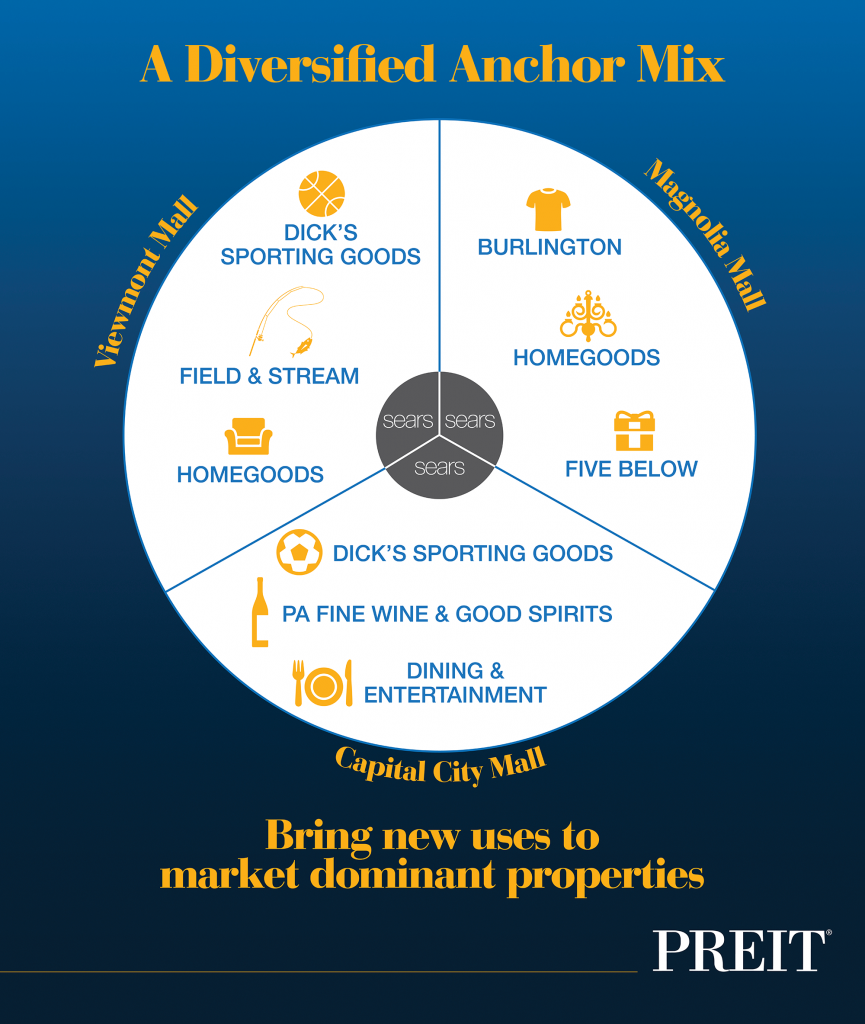 About PREIT
PREIT (NYSE:PEI) is a publicly traded real estate investment trust that owns and manages quality properties in compelling markets. PREIT's robust portfolio of carefully curated retail and lifestyle offerings mixed with destination dining and entertainment experiences are located primarily in the densely populated eastern U.S. with concentrations in the mid-Atlantic's top MSAs. Since 2012, the company has driven a transformation guided by an emphasis on portfolio quality and balance sheet strength driven by disciplined capital expenditures. Additional information is available at www.preit.com or on Twitter or LinkedIn.