Celebrating Black History Month with Curate Noir & PREIT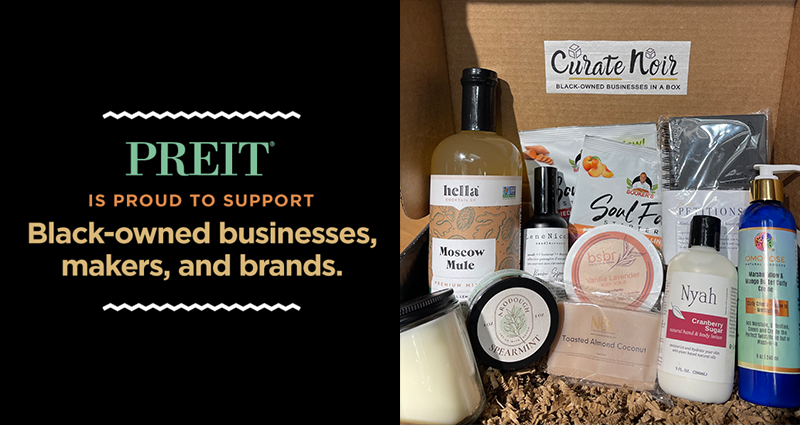 In celebration of Black History Month, PREIT is proud to partner with our tenant, Curate Noir, which features all Black and Brown-Owned businesses at their Moorestown Mall location. Each of our properties will run social media giveaways of gift boxes featuring a selection of Curate Noir's vendors to cultivate support and raise awareness for these emerging businesses.
What started in Nika and Alban Corbett's living room as The Black Owned Business Box, a subscription box that shipped 4-6 Black-Owned business products to subscribers every month, has now grown into a place where you can shop from over 60+ different brands. Since opening their doors, they have hosted multiple expos with 100+ vendors, two of which were inaugural Black-Owned Business Expos in recognition of Black Business Awareness Month. Curate Noir continues to support small businesses as they grow. You can visit them in person at Moorestown Mall!
Get to know the brands and products included in the curated boxes below.
Founded in 2020 by Camisha Ballard, Petite Petitions is a brand focused on clothing the physical and supporting the mental. Petite Petitions has come a long way from its beginnings in the mind of its creator. When Camisha first started out, her passion for creating products as statements to drive change, drove her to action so that Petite Petitions can offer you a unique selection of apparel and manifestation tools.

Product Included

: Mind, Body, Spirit 3 in 1 Journal


Follow on Instagram
Out of a need for a creative outlet, while working in banking, soapmaking became a fun way to make something we use every day in awesome scents, colors, and shapes. After crafting the first few batches of soap it was LaShonda Tyree's mother's request after using the soaps to make her more because the soap didn't irritate her skin after bathing. Soap became the creative medium in which Nyah was started.

Product Included: Body Lotion
Follow on Instagram
Rebecca was inspired by a conversation with her childhood friend about skincare and how exfoliation could help to rejuvenate the skin and aid in fading dark spots. After that conversation, Rebecca began to extensively research and experiment with natural ingredients to improve her skin and the results were amazing. She knew that she had to share these products with others who may be experiencing the same. 

 

In August 2011, she began selling her body scrubs to close family and friends and the feedback was excellent! In April 2012, her products were featured in the gift bags of the Black Women In Entertainment Law (BWEL.org) Scholarship Gala that paid tribute to and honored BET Networks CEO, Debra Lee.


Product Included: Body Scrub
Follow on Instagram
Based in Maryland, minutes from the District of Columbia, LeneNicole. Candle Co. is a Black woman-owned small business focused on creating safe, high-quality candles that embrace the collective of all things manifested, but not spoken, by our mind, body, and soul. That mantra inspires our motto: candles that express your mind + mood. 

Founder Darlene created LeneNicole. Candle Co. after realizing the impact of spending endless amounts on big-box brands + high-end candles that weren't relatable or reflective of a true feeling or mood, did not exude physical distinctiveness or promote a safe and non-toxic burn.

 

LeneNicole. Candle Co. puts a dynamic twist on luxury in a jar. Our unique, one-of-a-kind Signature and Exclusive mood. Collections expand on how we all occasionally feel and think, hence our mood. 

Product Included: Room Spray
Follow on Instagram
Omorose Natural Products started when founder and CEO, Katrisha Tinsley, noticed just how badly she had damaged her hair. Working as a Registered Cardiovascular Invasive Specialist, Katrisha was teased daily for how her hair fit under the medical bonnet. As a result, she spent the next two years regularly straightening her hair, leaving it with excessive heat damage and her feeling less than beautiful.

 

Katrisha searched for high-quality natural hair products that would help restore the much-needed moisture, strength, and shine to her hair but found no such products.   She began to research and experiment with various natural ingredients to make her own hair products until she created a combination that worked wonders and she began to see an immediate difference in the overall health of her hair. Now that her natural curls were coming back to life, she began to feel much more beautiful and confident. Wanting other women to share in this newfound joy and reap the benefits of using her products, Katrisha became inspired and thus the Omorose Natural Products Hair Care line was born.  

Product Included: Marshmallow & Mango Butter Curly Creme Leave-In Moisturizer
Follow on Instagram
Booker's Soul Food Starter Kits bring southern cooking to your home in a snap. Husband and wife team Claude and Crystal Booker cultivated their cherished family recipes into pantry-ready seasoning kits that make it easy to prepare down-home cooked meals on your own.

No need to worry about too much salt, too little sugar, or not enough time. Booker provides you with just the right amount of seasoning to make southern sides simple. All you do is buy the produce – some peaches, a few yams, a bunch of collard greens, or shredded cheese – and follow the simple steps outlined on the package. Customize your kits to fit your family's tastes and preferences. Bring the ingredients you love and make each side your own.

While Booker's kits bring families to the table, they also support Black education. Each Soul Food Starter Kit that you purchase helps further the education of our nation's African-American youth.


Product Included: Soul Food Seasoning Packs
Follow on Instagram
If you are in need of a classic cocktail, a mindful drink, or sober alternative, Hella Cocktail Co. offers choice along your journey through our craft bitter beverages, premium bitters, and cocktail mixers with integrity rooted in discovery for everyone.

The Hella Cocktail Co. is pleased to offer a variety of handcrafted goods that raise the bar on your imbibing and culinary experience. They handcraft each product in small batches with the finest ingredients available; the resulting quality is no coincidence.

Product Included: Moscow Mule Mixer
Follow on Instagram
Nylah Beauty is actively involved in curating a beauty line of products that provides a holistic and natural feeling. They initiated their beauty line in the spring of 2020. They 

believe that beauty stems from within; your outer beauty will surely match your inner persona after receiving one of the great products at Nylah's Beauty Line.

Product Included: Bar of Soap
Follow on Instagram
The mission

of A Little Mental is to promote awareness on various topics around mental health, connect individuals to a diverse and inclusive range of resources, and create products that can help individuals cope with everyday life.

 

The vision

of A Little Mental is to be a comprehensive mental health resource that increases accessibility and de-stigmatizes the topics around mental health and wellness. We wish to engage, educate, and empower those who want to learn more about mental health and wellness but may not know where to start.

Product Included: Arodough
Follow on Instagram